Double-qualified Plastic Surgeon
Highest Quality and Safety
Score Health Map Netherlands 9.6
Nose correction with fillers by an experienced Plastic Surgeon
Nose correction with fillers offers a solution if you are one of the many people who are bothered by bumps in your nose. Treatment with these hyaluronic acid fillers is our preferred method for every rhinoplasty. With the filler, a lump in the bridge of the nose or a crooked back of the nose can be remedied. A rhinoplasty with fillers has the advantage that you do not need surgery. You do not need to be anaesthetized, and there is no scar. After the treatment, you are almost immediately presentable again to others. The result is immediately visible and lasts for over a year. Curious? Call, send us a message on WhatsApp or book your free consultation.
View all our treatments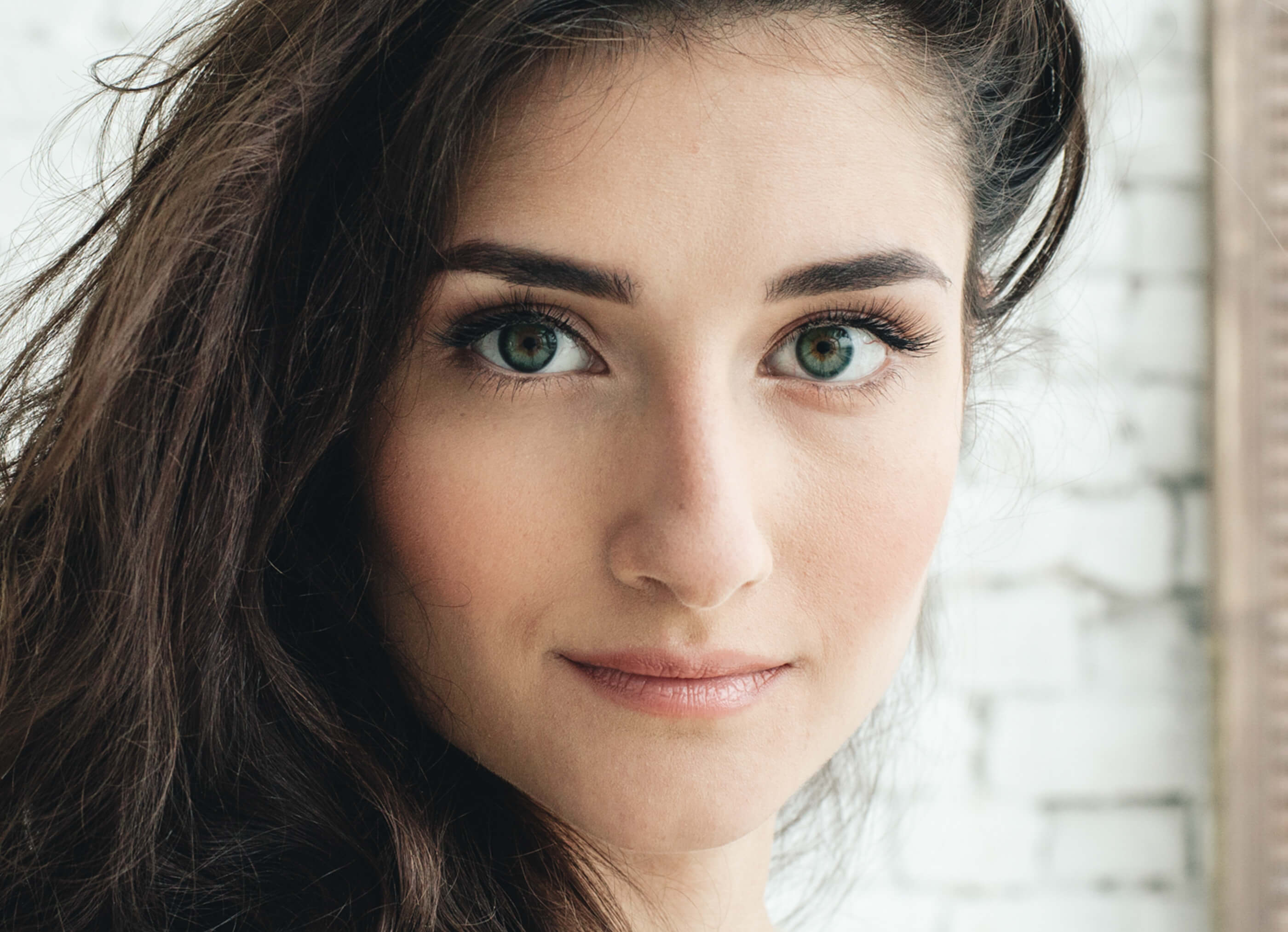 A non-invasive rhinoplasty with fillers
The nose is a prominent part of the face. Unfortunately, a lot of people are not satisfied with their nose. For example, some people think it is too big or crooked. In the past, the nose was often surgically corrected. Nowadays, this is no longer necessary in certain cases, which has many advantages. For example, nasal surgery is much more invasive than rhinoplasty with fillers. One has to go under anaesthesia and is much longer in recovery. This is not the case when correcting a nose without surgery. Betan Clinics uses fillers for rhinoplasty. The chance of complications is much smaller with a rhinoplasty, and you need almost no period of recovery. Fillers can be used to correct the bridge of the nose or to correct curvatures and dents in and around the nose. It is also possible that the tip of the nose has subsided due to old age. This can be treated with a muscle relaxant. Both with fillers and muscle relaxants, the effect is great, but the treatment is relatively simple.
Make your appointment today
Are you interested in a free consultation about the advantages of a filler treatment? We will be happy to talk to you about all aspects of the treatment. Please call +31 (0)50 211 3 876 or send us an e-mail at info@betanclinics.com.
Before and After Photos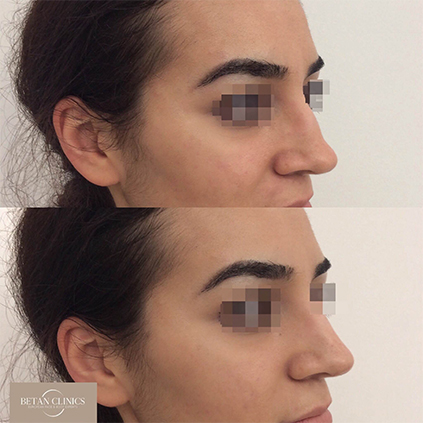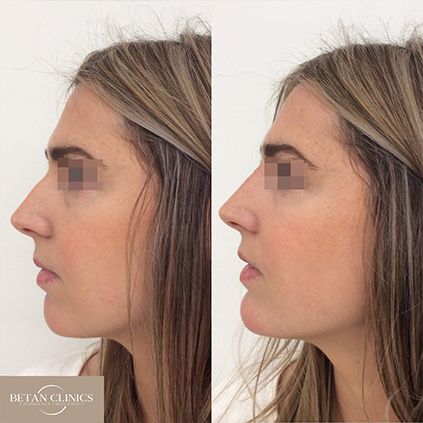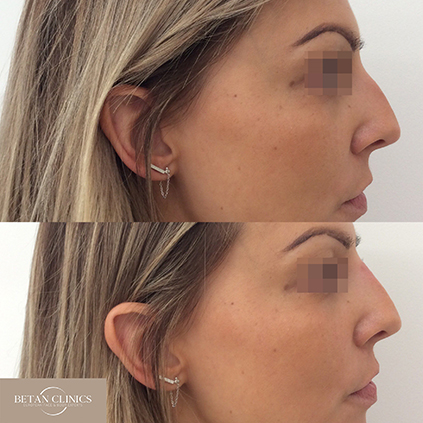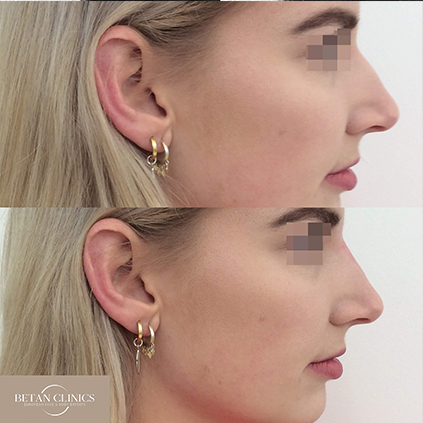 Available Monday to Sunday until 22:00
Why choose a rhinoplasty with fillers at Betan Clinics?
Highest quality and safety

Quality and safety always come first

An experienced plastic surgeon

Betan Clinics employs an experienced plastic surgeon with a high academic title. The plastic surgeon guarantees 100% attention and attention to detail.

Free consultation

Always a free 30-minute consultation. At home, you will receive a digital medical questionnaire in advance, so that the plastic surgeon has all the time during the consultation to discuss your questions and wishes.
Latest techniques

The latest, advanced treatment techniques for the best results.

Natural results

Less is more: preserving natural results. Together with you, the plastic surgeon will draw up a personal treatment plan that fully meets your wishes and produces a natural result.

Evening and weekend

Evening and weekend treatments

reachable 24/7

Reachable 24/7 in case of complaints after the operation
De plastisch chirurg van Betan Clinics
Dr. Volkan Tanaydin, MD, PhD, PharmD
(Big nummer: 59910764601)
Zeldzaam Dubbelgekwalificeerd Estetisch Plastisch Chirurg en Apotheker
Nederlands én Europees gecertificeerd
Doctoraat titel (PhD)
Fellowship in beroemde Pitanguy Instituut in Rio de Janeiro, Brazilie
Ruime ervaring door brede casuïstiek
Focus op kwaliteit, veiligheid en nazorg
Vooruitstrevend maar ook eerlijk en duidelijk over haalbaarheid van resultaat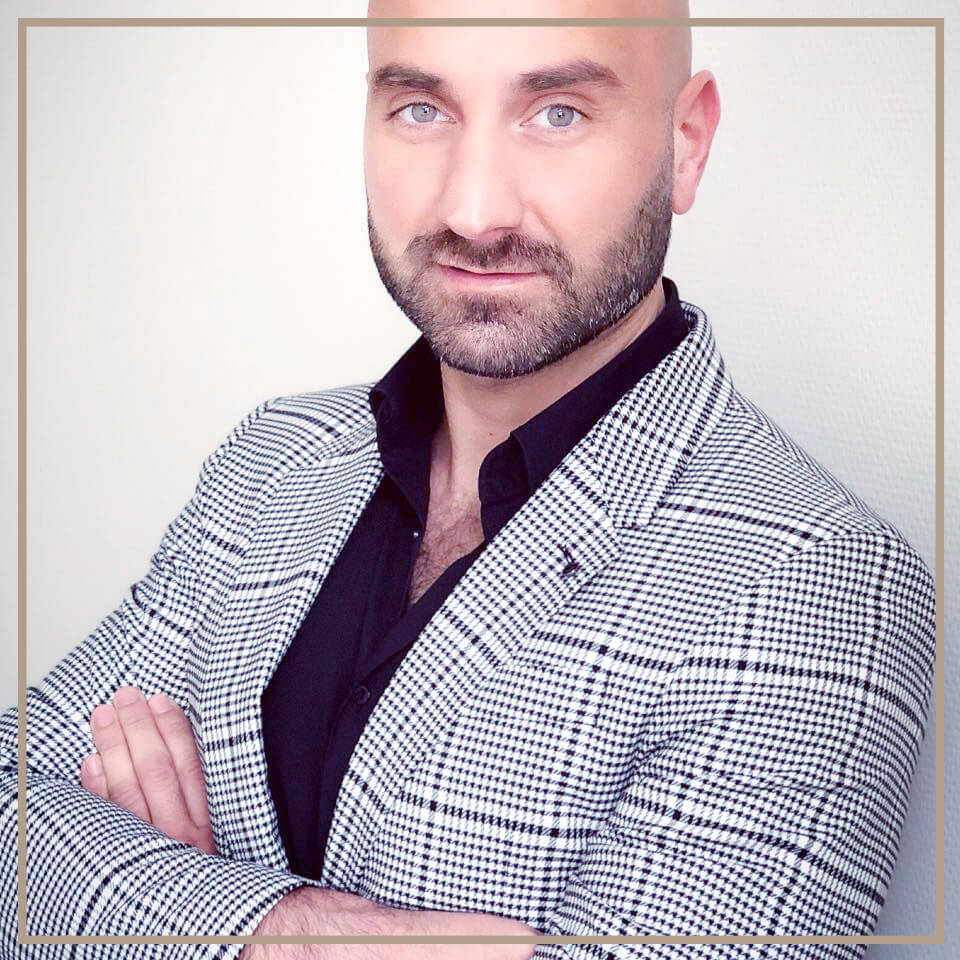 Tanaydin, V.
is gewaardeerd op ZorgkaartNederland.
Bekijk alle waarderingen
of
plaats een waardering
How much does a nose correction with fillers at Betan Clinics cost?
At Betan Clinics, rhinoplasty by fillers is only performed by an experienced plastic surgeon and with the best A-brand hyaluronic acid fillers. A nose correction with fillers is possible from € 450,- including consultation and check-up. This is a very competitive price for a treatment that is performed qualitatively and safely by a plastic surgeon with a high academic title.
Each treatment is tailor-made for you. This means that the plastic surgeon will draw up a personal treatment plan for you in line with your wishes and expectations. The plastic surgeon always gives honest and sincere advice. Would you like more information about a nose correction with fillers? Then please contact us free of charge: call or send us a message on Whatsapp at +3150 211 3 876. We are available 7 days a week until 22:00 hours.
Maandag t/m zondag tot 22:00 uur bereikbaar
Wat vinden anderen van een neuscorrectie met fillers bij Betan Clinics?
Heel tevreden met het resultaat, geen klachten gehad na de behandeling. Fijne arts die aandachtig luistert, ik kon al mijn vragen stellen.
Ik ben behandeld door dr. Tanaydin, heel open en vriendelijke man. Tevreden hoe ik behandeld ben.
Ik wist niet dat mijn bobbel op de neus met een filler behandeld kan worden… na een intakegesprek toch maar de stap gezet om te behandelen. Het resultaat is prima, ik ben blij! Ik ben betan clinics aanbevelen.
Book your appointment